Creamy Potatoes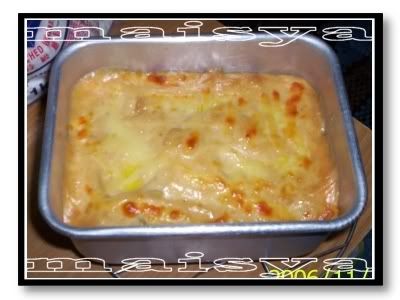 Resepi ni dicuba sebab masa tu bahan-bahan ni jer yang ada kat rumah...simple tapi mengenyangkan. Maisya ikut sebijik cam resepi cuma tak bubuh dill sebab tak de dan Maisya tambah grated cheese kat atas tu. Susu tu Maisya pakai susu cair.
Creamy Dill Potatoes
Post by: speedial, board FNR forum.cari.com.my
Source: RecipeZaar
A creamy, tasty potato dish that can be made ahead and baked when ready to serve.
Ingredients:
4 medium potatoes
2 tablespoons melted butter
2 tablespoons flour
1 cup milk
1/2 cup mayonnaise
1/4 teaspoon pepper
1/4 teaspoon salt
1/4 teaspoon dry dill weed (ni tak tau ape benda nya maybe sejenis rumpai kot)
Method:
Boil potatoes until almost done, then peel and dice.
Spread potatoes out evenly into casserole dish.
Mix together butter, milk and flour and bring to a boil, whisking constantly.
Cook for 1 minute more, then remove from heat.
Add mayonnaise and rest of ingredients and mix.
Pour mixture over potatoes in casserole.
Sprinkle paprika and additional dill on top, if desired.
Bake uncovered for 30 minutes