Decoration Cookies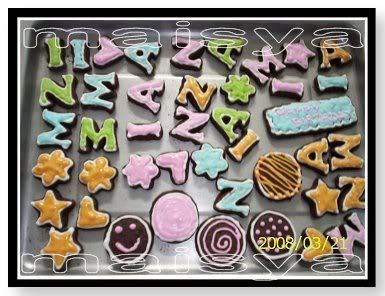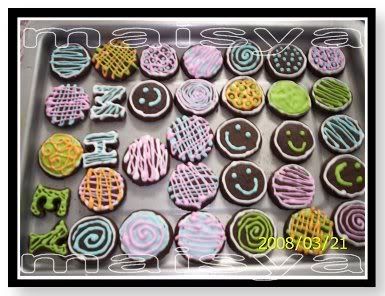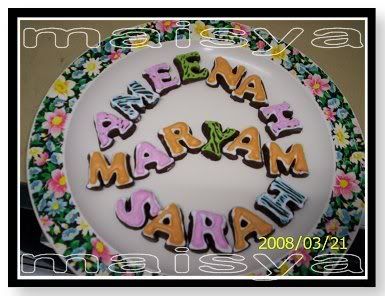 Weekend haritu try buat decoration cookies. Seronok plak dok conteng-conteng atas cookies ni


Chocolate Sugar Cookies
recipe taken from
http://www.joyofbaking.com/ChocolateSugarCookie.html
2 3/4 cups (385 grams) all purpose flour
3/4 cup (75 grams) cocoa powder
1/2 teaspoon salt
1 teaspoon (4 grams) baking powder
1 cup (227 grams) unsalted butter, room temperature
1 3/4 cups (350 grams) granulated white sugar
2 large eggs
2 teaspoons pure vanilla extract


Royal Icing Using Egg Whites:
2 large egg whites
2 teaspoons fresh lemon juice
3 cups (330 grams) confectioners (powdered or icing) sugar, sifted

For Chocolate Sugar Cookies:
In a large bowl whisk together the flour, cocoa powder, salt, and baking powder.

In the bowl of your electric mixer (or with a hand mixer), beat the butter and sugar until light and fluffy (about 3 to 4 minutes). Add the eggs, one at a time, beating well after each addition. Add the vanilla extract and beat until combined. Add the flour mixture and beat until you have a smooth dough.

Divide the dough in half and wrap each half in plastic wrap. Refrigerate for about one hour or until firm enough to roll.

Preheat oven to 350 degrees F (177 degrees C) and place rack in the center of the oven. Line two baking sheets with parchment paper.

Remove one half of the chilled dough from the refrigerator and, on a lightly floured surface, roll out the dough to a thickness of 1/4 inch (1 cm). (Keep turning the dough as you roll, making sure the dough does not stick to the counter.) Cut out desired shapes using a lightly floured cookie cutter and transfer cookies to the prepared baking sheet. Place the baking sheets with the unbaked cookies in the refrigerator for 10 to 15 minutes to chill the dough which prevents the cookies from spreading and losing their shape while baking.

Note: If you are not going to frost the baked cookies, you may want to sprinkle the unbaked cookies with crystal or sparkling sugar.

Bake cookies for about 10 - 12 minutes (depending on size) or until they are firm around the edges. Remove from oven and let cookies cool on baking sheet for a few minutes before transferring to a wire rack to finish cooling. Frost with royal icing, if desired. Be sure that the frosting on the cookies dries completely before storing. (This may take several hours.) Frosted cookies will keep several days in an airtight container. Store between layers of parchment paper or wax paper.

Makes about 36 - 4 inch (10 cm) cookies.

For Royal Icing with Egg Whites:
In the bowl of your electric mixer (or with a hand mixer), beat the egg whites with the lemon juice. Add the sifted powdered sugar and beat on low speed until combined and smooth. Mix in food coloring, if desired. The icing needs to be used immediately or transferred to an airtight container as royal icing hardens when exposed to air. Cover with plastic wrap when not in use.

*royal icing tu dapat baaanyak so utk satu adunan cookies tu guna separuh resepi royal icing pun dah cukup.
*lepas dah hias dengan royal icing tu maisya bakar semula guna api atas shj suhu 100 C selama lebih kurang 10 minit( letak di middle rack ye )..saja nak percepatkan proses pengeringan dan jugak sebab royal icing tu guna raw egg kan so rasa selamat le sikit lepas bakar semula tu.
*kalau nak buat decoration cookies ni sebaiknya cookies tu dibuat agak tebal supaya tak mudah lemau bila kita tunggu icing tu mengeras