Banana Coffee Muffin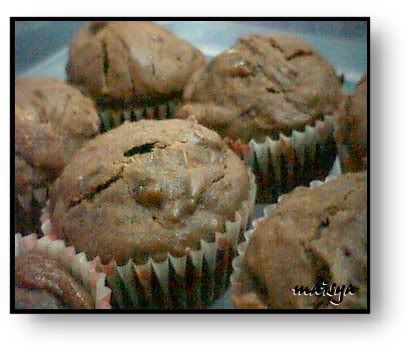 Banana Coffee Muffin

INGREDIENTS:
Makes 12 large muffins

180g all-purpose flour
195g superfine flour
5 tsp baking powder or 2-1/2 tsp double action baking powder
1/2 tsp salt
210g castor sugar
3 large eggs, lightly beaten
250ml milk
4 tbsp instant coffee powder
130g butter, melted and cooled
3 ripe bananas, mashed
Coffee powder to dust muffin surface

METHOD:
Preheat oven at 200 degC. Line muffin tray with paper cups.

Sift flours, baking powder and salt into a mixing bowl. Add sugar into the flour mixture. Use a whisk to lightly blend the mixture.

In another mixing bowl, dissolve coffee powder in milk. Add egg and melted butter. Mix well.

Make a well in the middle of dry ingredients. Add the wet ingredients and mashed bananas. Mix just until all the flour is moistened. The batter should look lumpy. Do not overmix.

Divide batter into 12 muffin cups. Dust surface of muffins with a little coffee powder.

Reduce temperature to 180degC and bake muffins for 25-30 minutes or until well risen.

Transfer to wire racks to let cool.

Source: Jo's Deli & Bakery

Maisya buat muffin ni just guna tepung gandum, tak campur dgn superfine flour macam dlm resepi asal( malas nak beli sebenarnya). Kat atas muffin ni tak dust dgn coffee powder pun sebab malas...he..he..he..satu lagik, Maisya guna marjerin jer. Taste dia memang sedap tapi Maisya punya ada macam rongga-rongga sikit kat dalam dia and a bit keras....ada ler tu yang tak kenanya. Kalau ikut betul-betul resepi tu maybe boleh jadik lagik sedap.