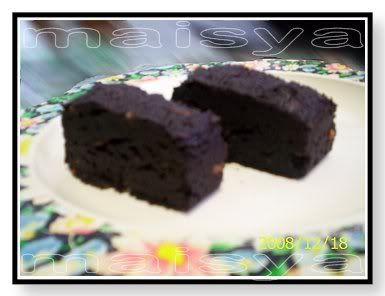 HAZELNUT CHOCOLATE BROWNIES
Recipe by Amy Beh
http://kuali.com/recipes/viewrecipe.asp?r=1468

Ingredients
# 150g dark cooking chocolate, broken into pieces
# 175g butter
# 175g soft brown sugar
# 3/4 tsp vanilla essence
# 3 eggs

Sifted twice:
# 135g plain flour
# 80g cocoa powder
# 1 tsp cinnamon powder(tak letak)
# 1/2 tsp salt

# 100g roasted hazelnuts, very coarsely chopped (maisya guna almond)

Method
Line a 21cm square baking tin with lightly greased aluminium foil. Preheat oven to 180°C.

Melt butter and chocolate over simmering hot water until both chocolate and butter melts into a paste.

Remove from heat and add in sugar. Stir until sugar dissolves( part ni penat dok kacau-kacau tapi tak mau larut pun gulanya). Leave aside to cool.

Add eggs, one at a time into the chocolate butter paste and add in essence, sifted flour and cocoa mixture.

Stir in hazelnuts.

Pour batter into prepared tin and bake for 30 minutes.

Allow brownies to cool for 10–15 minutes then cut into slices.

*maisya guna loyang cutter. Alas loyang dengan kertas minyak lepas tu tuang adunan dan letak cutter. Bila dah masak, masa masih panas-panas tu keluarkan cutter.