Kim's Moist Muffin
Resepi ni diperkenalkan oleh forumer Sankuriang di FNR. Ramai yg dah cuba dan hasilnya memang best! Maisya dah try pelbagai versi guna resepi ni.Nie link untuk resepi asalnya...bacalah review kat situ nanti boleh adjust kuantiti bahan yg diperlukan berdasarkan pengalaman diaorang.


http://www.bestrecipes.com.au/recipe/Kims-Moist-Muffins-L1010.html




Kim's Moist Muffins


Submitted by: Kim-Marie

Serves: 12
Preparation time: 15 minutes or less

No melting butter or beating sugar until fluffy! Easy to cook and easy to eat!

Ingredients
220 g self-raising flour (1 1/2 cups)
1/2 - 3/4 cup vegetable oil (dinasihatkan guna 1/4 - 1/2 cawan je)
3/4 cup buttermilk or regular milk (maisya guna 1 cawan buttermilk)
1/2 - 3/4 cup caster sugar
1 egg, lightly beaten
1 teaspoon vanilla extract
150 g added flavours (frozen raspberries, dark/milk/white choc bits, grated apple, mashed banana)

Method
Preheat oven to 180°C.
Grease muffin tins or use liners.
Mix all dry ingredients together and make a well.
Mix all wet ingredients together and pour into the well.
Add flavourings and mix well until just combined.
Place in tins and bake for 15-20 minutes or until lightly browned. (maisya bakar dalam 25 minit)

Recipe notes
Over mixing will toughen the muffins. You can substitute the sugar with artificial sweeteners or Xylitol to make it lower in carbohydrates and sugar free. Buttermilk is lower in fat than regular milk but you can also use skim milk. Weighing the flour gives a much nicer muffin. I'm not sure why but these are by far the nicest muffins I've made. Raspberry and white choc chips are divine! A friend of mine uses mashed banana and passionfruit pulp in hers! I've adjusted the oil in the recipe because of a few recommendations... I have found lately that 3/4 cup is just a bit too oily. Thanks everyone for the great feedback! A couple of people have said their muffins are not as moist as I've described - you need to make sure you only have 150g of any added flavours! Any more and they are drier any less and too moist and oily! Thanks!

ni just tambah choc chips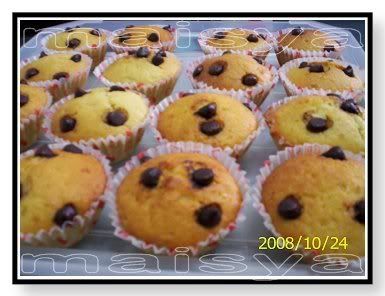 ni tambah blueberry filling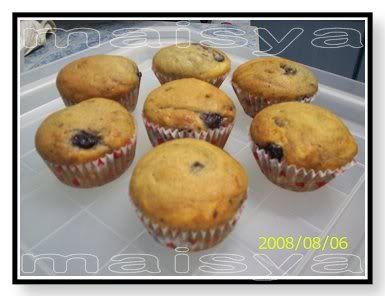 yang ni tambah jus pandan, susu tu tukar kepada santan...tapi macam dah terlebih liquid le plak.