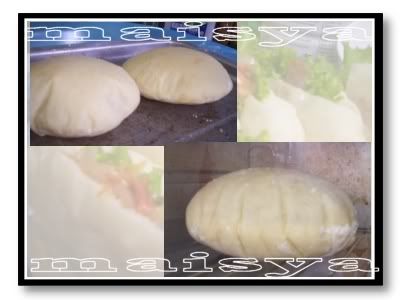 Ini adalah cubaan kali ketiga maisya buat roti pita...Dah cuba 3 resepi yg berbeza tapi kali ni sungguh puas hati bila kelapan-lapan roti pita yg dibuat tu naik kembung dgn sempurna bila bakar. Sebelum ni mesti ada yg tak naik. Tak taulah sebab resepi ni yg bagus ke or sebab maisya dah improve cara buat roti pita ni tapi korang cubalah...tak susah. Maisya ikut sebijik cam resepi, tak de ubah apa-apa kecuali maisya uli dgn tangan je.
Peppy's Pita Bread

Submitted by: Sandy
Rated: 5 out of 5 by 126 members Prep Time: 30 Minutes
Cook Time: 15 Minutes Ready In: 3 Hours 20 Minutes
Yields: 8 servings

"Easy to make pita style bread."
INGREDIENTS:
1 1/8 cups warm water (110
degrees F/45 degrees C)
3 cups all-purpose flour
1 teaspoon salt
1 tablespoon vegetable oil
1 1/2 teaspoons white sugar
1 1/2 teaspoons active dry
yeast

DIRECTIONS:
1. Place all ingredients in bread pan of your bread machine, select Dough setting and start. When dough has risen long enough, machine will beep.
2. Turn dough onto a lightly floured surface. Gently roll and stretch dough into a 12 inch rope. With a sharp knife, divide dough into 8 pieces. Roll each into a smooth ball. With a rolling pin, roll each ball into a 6 to 7 inch circle. Set aside on a lightly floured countertop. cover with a towel. Let pitas rise about 30 minutes until slightly puffy.
3. Preheat oven to 500 degrees F (260 degrees C). Place 2 or 3 pitas on a wire cake rack. Place cake rack directly on oven rack. Bake pitas 4 to 5 minutes until puffed and tops begin to brown. Remove from oven and immediately place pitas in a sealed brown paper bag or cover them with a damp kitchen towel until soft. Once pitas a softened, either cut in half or split top edge for half or whole pitas. They can be stored in a plastic bag in the refrigerator for several days or in the freezer for 1 or 2 months.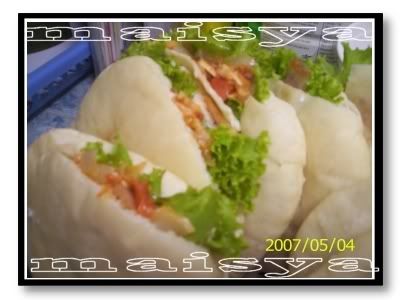 Maisya buat kebab utk makan dgn roti pita ni. Maisya ikut resepi inti dari jeeja07 di FNR cuma ayam tu maisya just perapkan dgn rempah tandoori & yogurt...cara shortcut. Sedap...yummy!
Kebab Baghdad
Recipe posted by jeeja07 at FNR

Bahan Perap
1 Ekor Ayam (best part bhg peha ayam - boleh ganti dgn 4 whole chicken leg)
2 sudu makan serbuk daun rosemary
2 sudu makan daun thyme
1 sudu makan serbuk lada hitam kasar
2 sudu makan madu
150gm yogurt asli (jgn guna low fat)
Garam secukupnya
1 sudu makan perahan jus lemon

Ayam buang kulit dan lumur semua bahan perap pada ayam.
Balut dalam platstik nipis dan simpan dalam freezer utk 2 jam.
Kalau Bakar dlm oven, letak atas rack dan biarkan air jatuh kedlm dulang.
Paling sedap panggang pakai arang.
Bila dah masak carik2 isi ayam dan potong kecil2.

Bahan Inti
Butter/ghee (sedap ghee)
2 ulas bawang putih diketuk
1 biji bawang oren (Holland) potong dadu
1 biji tomato dipotong dadu
Sos cili
Baby carrot, timun dan kobis purple (hiris nipis panjang)

Cairkan butter/ghee dan tumis bawang putih
Tumis sampai jadi perang dan masukkan bawang oren dan masak sekejap
Masukkan daging ayam yg telah dicarik2
Masukkan tomato biji dan sos cili.
Kacau rata2 dan akhir sekali masukkan carrot timun dan kobis purple yg dihiris nipis pjg.

Roti Pita
Boleh guna roti pita plain, wholemeal atau hotdog bun. Best is wholemeal pita.
Belah 2 roti pita dan panaskan atas frying pan sebentar. Sebelah dalam akan terbuka sendiri.
Sapukan sebelah dalam roti dgn mayonis
Letakkan daun salad (lettuce) didlm roti dan masukkan inti.

*Note. Isi ayam yg sudah dicarik2 tu boleh simpan dlm freezer dan boleh digunakan di lain2 masa.