Double Chocolate Muffin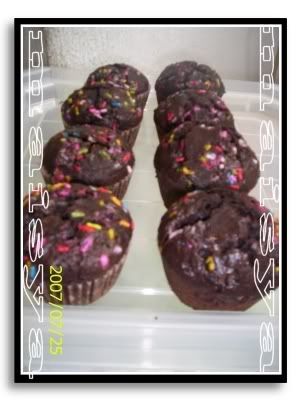 Muffin coklat lagik!!...Kali ni guna resepi lain plak. Really easy dan outcome pun ok, lembut jer.
recipe posted by feathers at FNR

9 oz self raising flour
1 tsp bicarbonate of soda
half tsp salt
5 tbsp cocoa powder
4 oz chocolate chips, dark n white (extra pun takpe)
4 to 5 oz brown sugar (kalau banyak choc chips, kurang kan la gula...)
260 mls milk (full fat la, but to appease your guilt, you may use skimmed)
90 mls vegetable oil (or sunflower or canola or soya..)
1 tsp vanilla essence
1 egg...
Muffin tray n paper cases

Method :
Preheat oven at 160C atau 325F.
Sift flour, bicarb n cocoa into a bowl, add salt n choc chips n sugar.
Add milk, oil, vanilla n egg to dry ingredients.
Mix, do not over beat or muffins will be heavy.
Bakefor 8-10 minutes for mini muffins or 12-15 minutes for large muffins.
Will make 12 large muffins or about 40-50 mini muffins.

p/s coloured sprinkles are optional, but i think it looks cute...