Muffins
MUFFINS
taken from
http://www.joyofbaking.com/
There are two types of muffins: bread-like and cake-like. Each type has its own technique for mixing the batter. Less sugar and butter makes a bread-like muffin. A higher sugar and butter content makes a cake-like muffin. Once you determine which type of muffin you prefer, choosing recipes to try becomes easier

BATTERS

The bread-like muffin batter is made using the "muffin method". This batter can be assembled and baked 'quickly', usually in 20-25 minutes. Only two bowls are needed to make the batter. One bowl is used to mix all the dry ingredients together. The second bowl contains all the wet ingredients. The fat used with the bread-like muffins is usually in liquid form, either an oil or melted butter. When the wet and dry ingredients have been mixed together separately, then they are combined. The important step here is not to overmix the batter. However, there is a tendency to over mix because the ratio of liquid to flour is quite high. But mixing too much overdevelops the gluten in the flour which will cause a tough muffin with tunnels and a compact texture. Only 10 to 15 strokes are needed to moisten the ingredients and the batter should be still lumpy and you may still see a few traces of flour. Don't worry about these lumps as the batter continues to blend as it bakes and any lumps will disappear. Note: Over mixing the muffin batter causes it to become very stringy. This is the gluten developing in the flour. Over mixing causes long strands of gluten to form making it hard for the leavener to work and causes long tunnels in the baked good.
The cake-like muffin batter is prepared using the same method as making a cake batter. The butter (room-temperature) and sugar are creamed together. The eggs are mixed in and then the wet and dry ingredients are added alternately. The higher sugar and fat content in this type of muffin act as tenderizers thereby producing a richer cake-like muffin with a softer crumb. The increased fat content also minimizes the development of gluten which again helps to produce a muffin with a softer crumb.
---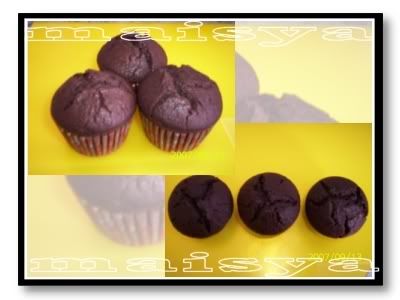 EGGLESS CHOCOLATE MUFFINS

INGREDIENTS
• 1 1/2 cups all-purpose flour
• 1 cup white sugar
• 1/4 cup unsweetened cocoa powder
• 1 teaspoon baking soda
• 1/2 teaspoon salt
• 1 cup water
• 1/3 cup vegetable oil
• 1 tablespoon vinegar
• 1 teaspoon vanilla extract

DIRECTIONS
1. Preheat oven to 200 degrees C. Line muffin tins with paper cups or lightly spra y with non-stick cooking spray.
2. In a large bowl, mix together the flour, 1 cup sugar, cocoa, baking soda and 1/2 teaspoon salt.
3. In a different bowl, mix together the water, oil, vinegar and vanilla.
4. Add the wet ingredients to the dry and stir ONLY till moistened. It's very important not to over-mix quick breads, such as muffins, or they can get very tough
5. Fill muffin tins with the batter
6. Bake in preheated oven for 25 to 30 minutes.
---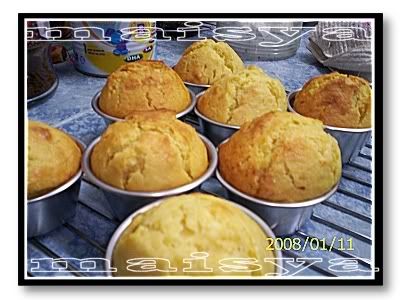 ORANGE MUFFINS

guna resepi basic muffin sue cuma tukarkan susu kepada orange juice, dan guna melted butter ganti minyak. Kalau tambah parutan kulit orange lagik sedap, tapi masa tu tak de.
---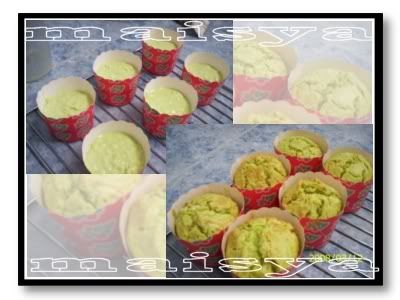 PANDAN MUFFINS
lupa la plak guna resepi mana...rasanya maisya ubahsuai dari resepi oreo muffins. Malangnya tak berapa puas hati dgn rasa dia, so akan cuba resepi yg lain plak nanti.
---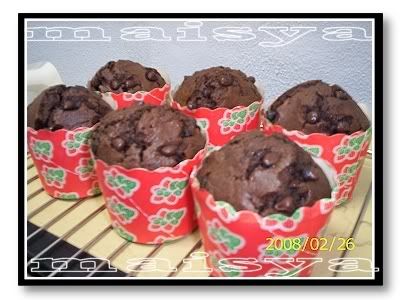 CHOCOLATE CHIPS MUFFINS
Sumber : Nigella Lawson

Bahan
250g tepung serbaguna
2 tsp baking powder
1/2 tsp soda bikarbonat
2 tbsp serbuk koko
175g gula kastor
150g coklat cip
250ml susu
90ml minyak sayur
1 biji telur (L size)
1tsp esen vanila/ ekstrak vanila

Cara
Gaul tepung, baking powder, soda bikarbonat, gula dan serbuk koko dalam mangkuk besar.
Gaul rata minyak, susu, esen vanila dan telur dalam mangkuk lain.
Tuang bahan basah ke dalam bahan kering dan gaul rata.
Masukkan coklat cip dan gaul rata.
Tuang adunan dalam papercup dan tabur sedikit coklat cip di atas.
Bakar pada suhu 200C untuk 20 minit.
Terjumpa resepi asal chocolate chocolate chip muffins ni...yg ni sukatan dlm cawan so senang sikit...
Chocolate Chocolate-Chip Muffins
Recipe courtesy Nigella Lawson
Show: Nigella Feasts
Episode: Comfort Foods
http://www.foodnetwork.com/food/recipes/recipe/0,1977,FOOD_9936_35617,00.html

1 3/4 cups all-purpose flour
2 teaspoons baking powder
1/2 teaspoon baking soda
2 tablespoons best quality cocoa powder
3/4 cup superfine sugar
3/4 cup semisweet chocolate chips, plus 1/4 cup for sprinkling
1 cup milk
1/3 cup plus 2 teaspoons vegetable oil
1 egg
1 teaspoon pure vanilla extract
Special equipment: Muffin tin with paper muffin cases


Preheat the oven to 400 degrees F.
Put the flour, baking powder, baking soda, cocoa, sugar, and 3/4 cup of the chocolate chips into a large bowl. Pour all the liquid ingredients into a measuring jug. Mix the dry and wet ingredients together, remembering that a lumpy batter makes the best muffins. Spoon into the prepared muffin cases. Sprinkle the remaining 1/4 cup chocolate chips on top and then bake for 20 minutes or until the muffins are dark, risen and springy.

---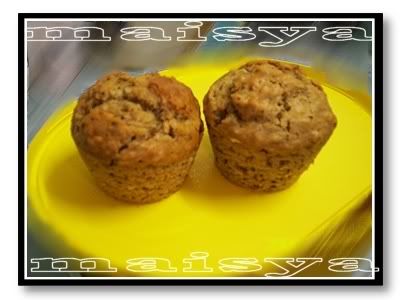 Tringin nak buat milk tea muffins, cari-cari resepi tapi tak jumpa yg sesuai...so ubahsuai resepi dan ni hasilnya. Rasa dah ok cuma serbuk teh tu maisya guna yg bukan dlm teabag tu so dia agak kasar tehnya, terasa macam tersekat kat tekak bila makan...kalau serbuk yg dlm teabag tu halus sikit so maybe tak de lah terasa sangat. Maybe next time boleh omit je serbuk teh tu.
MILK TEA MUFFINS
A)
1 teabag
1/2 cup hot water
1/4 cup sugar
1/2 cup condensed milk

Add tea to hot water, let stand for awhile. Add sugar and condensed milk. Mix until well blended. Let cool.
B)
1 egg
1/4 cup oil
Mix lighty until just blended.
C)
2 cups flour
3 teaspoons baking powder
1/2 teaspoon salt
Sift all ingredients.
D)
1 teabag
Tear the bag and take out the tea.
-Add A,B & D to C
-Fold together until the flour is dampened, but not smooth.
-Spoon mixture evenly into lined or greased muffin tray
-Bake for 20 mins or until the until skewer comes out clean
---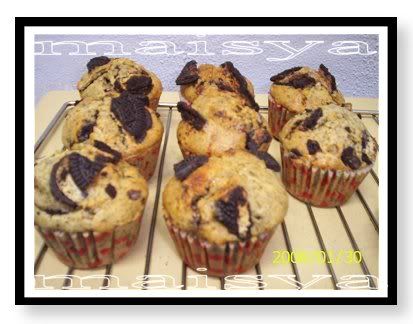 Sedap oreo muffins ni...cara penyediaan muffin ni pun lain sikit dari yg pernah maisya buat.
OREO MUFFINS
http://rossyabakes.fotopages.com/?entry=910453

1 3/4 cup all-purpose flour
1/4 cup sugar
1 tablespoon baking powder
1/3 cup butter or margarine
1 cup milk
1 egg
16 OREO chocolate sandwich cookies, coarsely chopped
50g white chocolate chopped (tak bubuh pun )
50g dark chocolate chopped ( tak bubuh pun )


Mix flour, sugar and baking powder in medium bowl. Cut in the butter until mixture resembles breadcrumbs. Blend milk and egg in a small bowl. Stir into flour mixture. Gently stir in chopped cookies and chopped white/ dark chocolate. Spoon batter into greased or paper-lined muffin trays.
Sprinkle with more chopped chocolates.

Bake for 15-20minutes or until toothpick inserted near centres comes out clean. Cool in pan on wire rack for 5 minutes. Remove from pan, cool slightly