Opera Cake...happy bday dear hubby!
Utk birthday hubby tahun ni maisya buatkan Opera Cake...tak pernah makan pun before ni tapi pernah nampak gambarnya , nampak macam sedap!
Dekat seminggu buat research pasal kek ni...dok compare resipi dari pelbagai website. Nak buatnya leceh sikit sebab ada byk lapis tapi kalau buat sikit-sikit tiap hari tak de lah terasa sangat. Secara dasarnya, lapisan-lapisan kek ni terdiri dari almond sponge cake, coffee buttercream dan chocolate ganache.
2 hari before birthday hubby, maisya bakar almond sponge cake. Bakar dlm 2 loyang 4 segi 9"x9" utk dapatkan kek yg nipis. Maisya guna resepi yg paling simple, tak payah asing putih dan kuning telur serta buat meringue seperti kebanyakan resepi. Kek ni guna almond yg sikit so tak terasa sangat almond tu. Kek tu maisya potong dua, so dapat 4 keping kek...dlm resepi nak 3 keping jer...bolehlah kan extra satu.
Coffee syrup tu maisya tuang sikit-sikit guna sudu atas kek tu...malas le nak rendam kek dlm coffee syrup...kang terlembik plak ..so setakat dia lembap-lembap sikit tu oklah sebab kek tu memang jadik agak kering.
Coffee buttercream plak ingat nak buat buttercream yg biasa jer iaitu butter plus sugar syrup/susu pekat tapi teringin plak nak cuba buttercream yg berlainan. Buttercream ni menggunakan kuning telur...kalau tak salah ni namanya French Buttercream..iye ke? Leceh jugak nak buatnya....dari segi rasa memanglah sedap sikit dari yg biasa tu.
Untuk chocolate ganache...kebanyakan resepi mesti guna fresh cream/whipping cream....err...benda-benda macam ni memang tak pernah beli so try ganti dgn benda lain...ada terbaca MUNGKIN boleh diganti dengan susu cair....so cubalah guna susu cair....tapi tak berapa menjadilah ganache tu...dia agak cair( maybe sukatan susu cair tu kena kurangkan )...rasa pun tak berapa nak sedap. Satu lagik kesilapan, patutnya buat ganache ni sehari sebelum assemble cake tu sebab ada baca....ganache ni bila disimpan semalaman nanti dia akan jadik pekat dan boleh disapu seperti buttercream tu...(...err..tapi tadi check setelah 24 jam dlm petiais pun still tak berapa nak pekat...lain kali kena beli fresh cream jugak lar...)
Nielah hasilnya...Opera cake yg comot! Tapi sedap tau ada rasa pahit-pahit kopi campur manis coklat...mmm...sayang sebab tak terasa sgt almond tu kalau tak mungkin lebih sedap? He...he...cubalah bagi sesiapa yg nakkan kelainan....cuma kena rajin sikit je......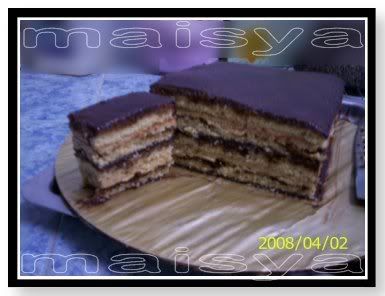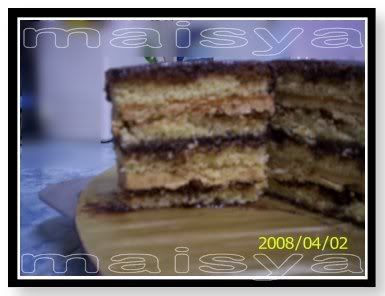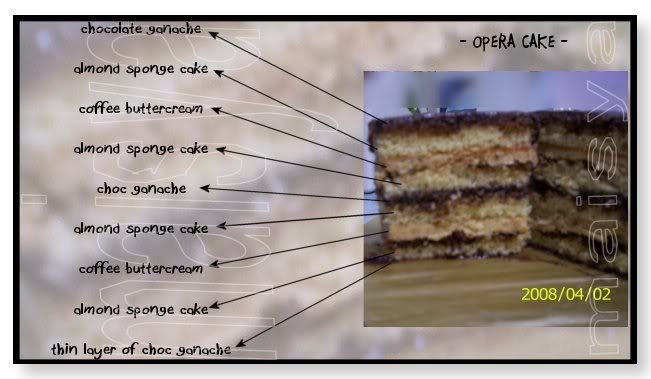 Klik gambar ni utk dapatkan paparan yg lebih jelas!
OPERA CAKE

Almond Sponge Cake/Joconde:
25g almond meal,
100g caster sugar,
4 large eggs,
1 tsp vanilla flavouring,
100g plain flour, sifted

Preheat the oven to 200C. Prepare two 19cm round cake tins, grease and line with baking paper. Put together the eggs, sugar, and almond meal in the mixer bowl and beat until the mixture is light and thick which will leave a trail. Fold in the sifted flour and mix gently until well combined. Pour into the prepared tins, then bake for 6-8 minutes or until cooked. Remove the baking paper and cool on the wire rack.

For coffee syrup :
½ cup water
1/4 cup sugar
2 tablespoons instant coffee

Boil together water and sugar, stirring till dissolved. Remove from heat when it comes to a boil. Slowly stir in sugar syrup into coffee, until a slightly sweet coffee mixture is achieved

For chocolate ganache:
300g good chopped dark cooking chocolate
300g fresh cream
butter(optional)

Heat the cream( and butter ) and add in the chopped dark cooking chocolate. Mix until smooth. Cool

For coffee buttercream :
2 teaspoons instant-coffee powder
1/4 cup plus 1 tablespoon water
6 tablespoons granulated sugar
2 large egg yolks
1/2 cup unsalted butter, cut into 1/2-inch cubes and softened

Stir together coffee powder and 1 tablespoon water until powder is dissolved. Bring sugar and remaining 1/4 cup water to a boil in a very small heavy saucepan, stirring until sugar is dissolved. Boil, without stirring, washing down any sugar crystals on side of pan with a pastry brush dipped in cold water, until syrup registers 238°F on thermometer (soft-ball stage).
While syrup boils, beat yolks in a large bowl with cleaned beaters at medium speed 1 minute.
Add hot syrup to yolks in a slow stream (try to avoid beaters and side of bowl), beating, then add coffee mixture and beat until completely cool, 3 to 5 minutes. Beat in butter, 1 piece at a time, and beat until thickened and smooth.

Assemble cake:
* Take the first sheet of Joconde and apply a very very thin layer of coating chocolate to the top.
* Allow to set, and then flip over the sheet of cake onto a clean parchment lined sheetpan. This now becomes the bottom of the cake, or the foot.
* Soak with Coffee Syrup. Spread on a layer of Butter Cream
* Top with a second layer of Joconde
* Soak with Coffee Syrup .
* Spread on a layer of Ganache
* Top with a third layer of Joconde
* Soak with Coffee Syrup
* Spread on a layer of Butter Cream. Make this very smooth and even.
* Place the Opera Torte in the refrigerator for about 15 minutes. This will allow the butter cream to firm, and make it ready for the glazing procedure.
* Working quickly, remove the Opera Cake from the refrigerator, pour the warm special opera glaze on top of the firmed butter cream, and spread quickly with only a couple of swipes. The glaze begins to set very quickly, so don't continue to spread the glaze or it will become marred. Shaking the sheetpan will cause the glaze to spread evenly and result in a smooth finish look.
* Chill in the refrigerator. Remove , and slice into 1-1/2" strips by 2" lengths.
* Using Writing Chocolate or thickened tempered chocolate, complete the cake, by writing OPERA on each portion. Place in paper cups.

resepi di atas adalah gabungan dari resepi-resepi yg terdapat di website berikut:
http://homemades.blogspot.com/2007/03/opera-cake.html
http://www.epicurious.com/recipes/food/views/230481
http://www.pastrychef.com/Opera-Torte_ep_69.html
http://zatidhati.fotopages.com/?entry=1376140
Opera Cake's origins(
http://www.balduccis.com/food/bakery/feature_article-122
)
The opera cake made its public debut in 1903, when Louis Clichy presented it at the Exposition Culinaire in Paris and named it 'Clichy' after himself. Years later, the Parisian patisserie Dalloyau reintroduced the cake as "L'Opera," named after the Paris Grand Opera. The name makes sense, as the cake is comprised of several layers, similar to "acts" in an operatic presentation

*resepi asal opera cake ni menggunakan liquor so kalau nak beli kek ni hati-hati ye.