Dah cuba buat pelbagai jenis apam gula merah yg guna tepung gandum, yg ni lain sikit sebab ada campuran tepung beras. Maisya buat dia macam kering dan keras la...tak tau le silap maisya or memang sepatutnya jadik macam tu. Prefer yg guna tpg gandum sahaja.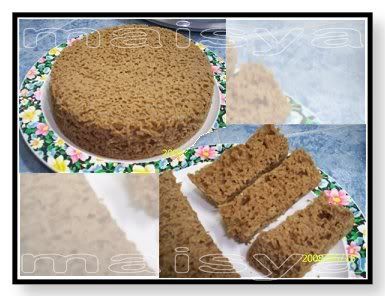 APAM GULA MERAH
http://yummylicious-jun.blogspot.com/2007/07/apam-gula-merah.html


60gm gula merah
40gm gula
150ml air
2 daun pandan
jerang semua hingga mendidih, tapis n sejukkan.

bahan yis:-
125ml air suam
1 sudu teh gula
1 1/2 sudu besar yis
campur air suam ngan gula, pastu campurkan yis.

bahan tepung:-
240gm tepung gandum
40gm tepung beras
garam

satukan bahan tepung ngan air gula n campuran yis tadi. tuang dalam loyang yg disapu minyak sket. biar kembang. kukus 15-20min. (make sure isi dlm loyang tu jgn penuh ye..1/2-3/4 sbb pastu dia kembang..)
---
Before ni dah pernah cuba
resepi dari Cranko21( FNR
)...lebih kurang je tapi ada yg jadik berat kat bahagian bawahnya walaupun atasnya dan kembang mekar. Yang tak kembang pun ada tapi yg tu elok plak tak berat bawahnya.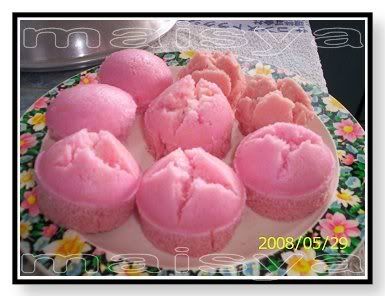 HUAT KUEH

http://sakurambo.multiply.com/recipes/item/18/Huat_Kueh


Ingredients:
165g castor sugar
Pinch of salt
200ml water
300g rice flour
1/2 tsp baking powder
200ml water
1 tbsp Eno fruit salt
A few drops of food colouring (e.g. red, yellow etc)

Directions:
Bring water, sugar and salt to boil. Stir the syrup and leave aside to cool.

Sift rice flour and baking powder into a mixing bowl. Add water and colouring (if any). Mix well.

Pour in syrup prepared in Step (1) and mix to form a batter. Cover it with a damp cloth and leave aside for 30 minutes.

Heat moulds over rapid boiling water for 10 minutes. Remove moulds from steamer and lined with paper cups.

Add Eno fruit salt into batter and stir immediately. Quickly pour batter into moulds.

Steam over rapid boiling water for 15 minutes until Huat Kuih opens up. DO NOT lift the lid in any instance.

NOTES:
The proper preparation of below steps ensures the opening up of Huat Kuih:
Preheat of moulds before batter is poured into moulds.
Addition of Eno fruit salt into batter and steam batter immediately.
---
Haritu cuba buat bahulu yg jenis bakar tu tapi tak menjadi sgt gara-gara lekat kat acuannya...try plak jenis kukus ni...melekat jugaklah walaupun still boleh keluarkan tapi tak comel dah. Yang letak dlm acuan tart tu senang je nak tanggal. Rasa kuih ni macam apam putri ayu tu cuma yg ni tak de kelapa dan tak letak ovalette.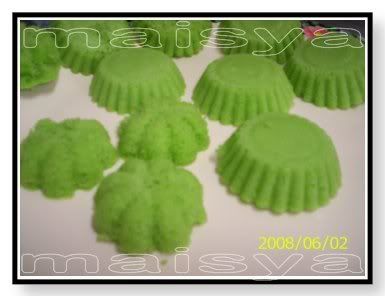 STEAMED BOLU PANDAN

http://auntyyochana.blogspot.com/2008/04/steamed-bolu-pandan.html


Ingredients:
3 eggs
145 gm. sugar
1/8 tsp. salt
155 gm. Cake flour or Hong Kong flour ) sift together
1/2 tsp. Baking Powder )
100 ml. Santan (coconut milk)
25 ml. pandan juice
a drop of green colouring
1/2 tsp. of Pandan paste

Method:
(1) Whisk eggs , salt with sugar till thick and creamy.
(2) Fold in the flour mixture alternately with the coconut milk.
(3) Add in pandan juice, green colouring and pandan paste. Fold lightly.
(4) Spoon into greased cake moulds and steam for 15 mins. over high heat.
(5) Cool on wire rack.