Mocha Muffin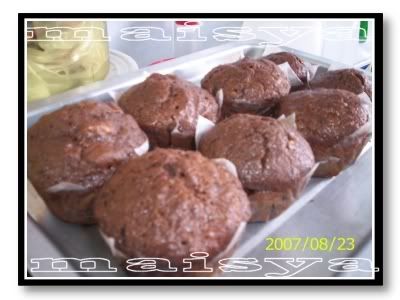 Sekarang ni dok seronok buat muffin le plak...sebab senang dan kenyang bila makan. Selalu maisya pilih resepi yg guna 1 bijik telur jer dan jugak yg guna vegetable oil.
Kali ni buat Mocha Muffin plak...Maisya tak bubuh chocolate chips so tak berapa mengancam rasanya.

Mocha Chocolate-Chip Muffins
http://einphilly.blogspot.com/2007/02/mocha-chocolate-chip-muffins.html

1 3/4 cups all purpose flour
2 tsp baking powder
1/2 tsp baking soda
1/4 tsp salt
3/4 cup semi-sweet chocolate chips, and more for sprinkling on top
3 Tbsp good quality cocoa powder
3/4 cup sugar
3/4 cup milk
1/4 cup strong coffee, room temperature
1/3 cup, plus 2 Tbsp vegetable oil
1 egg
1 tsp vanilla extract

Sift all dry ingredients together in a bowl. In a large measuring cup, mix all wet ingredients. Add the wet ingredients to the dry and stir ONLY till moistened. It's very important not to over-mix quick breads, such as muffins, or they can get very tough.

Line a muffin tin with paper liners and fill with batter. I wanted substantial size muffins, and to wash only one tin, so I squeezed all the batter into just 12 muffin cups, but if I had cut back a little in each, I could have easily gotten about 4 to 6 more muffins. I sprinkled with some of the remaining chocolate chips and then baked for 18 minutes in a 400 degree F oven.