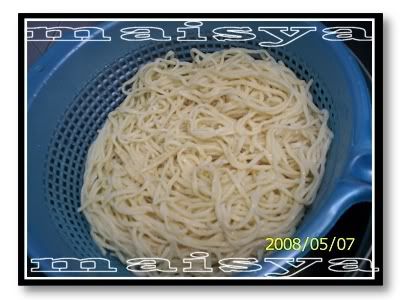 Cuba buat pasta menggunakan campuran tepung suji/semolina flour pulak. Mmmm..susah sikit nak handle doh ni, agak lembut...itupun dah letak extra tepung, maybe kena tambah lagi sikit tepung. Prefer resepi pasta yg Maisya guna sebelum ni, tak byk kerenah.


PASTA
http://theitaliancookery.com/pasta.htm


Ingredients: (serves 4)
* 1 1/2 cups white flour

(maisya tambah lagi 1/2 cawan tepung)


* 3/4 cup semolina
* 4 eggs
* 1 pinch of salt
* 2 tbsp olive oil

Optional Ingredients: Add these to make different colored pasta, but remember to add a little extra flour to maintain the consistency of the dough
* Tomato paste
* Spinach paste
* Whole peppercorns, crushed

Recipe:
1. Make a well at the center of the flour (semolina and white) and crack the eggs inside of that.

2. Add the oil to the eggs and mix with your hands slowly, so as not to spill anything. Start with your fingertips and make small circular motions that simultaneously mix the eggs and incorporate flour, so your mixture gradually thickens.

3. Continue mixing and adding flour until the dough is no longer sticky, but is not completely dry. You should be able to touch it without it sticking to you. You should be able to pick it up off the table without it sticking. If it's too sticky, add more flour. If it's too dry, add a tablespoon or two of water.

4. Break the dough up into handfuls and pass through a pasta machine or use a rolling pin to flatten the dough as much as possible. The dough should be about 2mm thick.

5. Roll the sheet of pasta onto a rolling pin or clean broom handle, cut into strips. If your dough is thick, cut into very thin strips. If your dough is thin, you can cut it into wider strips. You can hang your pasta on a bar or a clotheshanger.

6. To cook, boil water in a pot and add about 1 tsp salt. Put the pasta in the water and cook for about 2-4 minutes, until the pasta floats. Fresh pasta requires less cooking time than dried pasta. If you added semolina rather than white flour, the pasta will take longer to cook than if you add white flour. Freeze any uncooked pasta.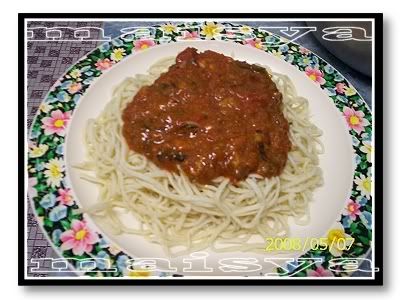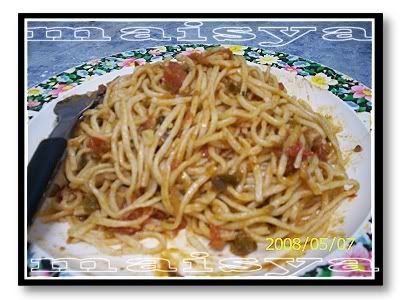 Untuk sos dia maisya guna resepi ni. Kalau yg sukakan Indian food mungkin akan suka dengan sos ni...byk guna spices. Sedap!


CALCUTTA PASTA SAUCE
http://www.indiasnacks.com/recipe/97/Calcutta-Pasta-Sauce.php


Ingredients

2 tablespoon butter
1 1/2 tablespoon cumin seed; crushed

1 tablespoon paprika
(maisya tak letak)
3 cloves garlic ; minced
2 tablespoon fresh ginger; minced
2 jalapenos; seeded and minced
(maisya guna sebiji cili merah dan sebiji capsicum hijau)
3 1/2 cup chopped fresh or canned - tomatoes
(maisya guna fresh tomato dan sos tomato)
1 teaspoon cardamom; ground
1/2 tablespoon garam masala
1/2 cup plain yogurt
(maisya ganti dengan susu + lime)
1/2 cup heavy cream (optional) - (for richer; sauce)
(tak letak)
1/4 cup fresh cilantro; chopped

Directions:

Saute cumin, paprika, garlic, ginger root and jalapenos in butter until golden and fragrant, about 5 minutes.
Add tomatoes, cardamom and garam masala.
Simmer gently until thickened, 30 to 60 minutes (depending on juiciness of tomatoes).
Add yogurt, optional cream and cilantro. Heat through, but do not boil.
Serve over couscous or pasta.

Recipe from Leesa Townsend of Aurora, OR in "Great Spaghetti Sauce Cookoff" article in "The Herb Companion." Dec. 1992/Jan. 1993, Vol. 5, No. 2. Pg. 78. Posted by Cathy Harned.



---


Yang ni dah lama buat, 2 bulan lepas!! Dulu pernah makan kat kedai(kakak yg orderkan)...tak perasan apa nama mee ni. Baru-baru ni dok teringat pasai mee ni so search kat internet, dapatlah resepi ni. Untuk mee dia, Maisya guna resepi yg ni, lupa la ambik kat website mana.


EGG NOODLES

2 tbsp oil
1 large egg
1 1/2 cups flour
1/4 cup water

Cara-cara dia tak yah tulislah...macam buat mee biasa(boleh refer resepi-resepi yg lepas)

Lepas dah celur mee ni dan dikeringkan, goreng pulak dlm minyak sampai garing. Nie rupa egg noodles yg dah digoreng garing....makan macam ni saja pun sedap ..rasa macam makan mamee !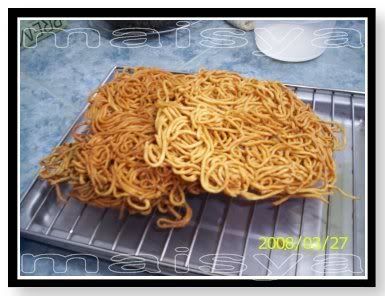 Egg Noodle yg dah dicurah kuah atasnya.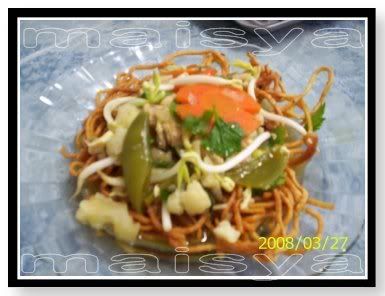 Untuk kuahnya lebih kurang macam resepi bawah ni. Sebenarnya haritu masa buat dah combine macam-macam resepi ...tapi basic dia macam ni la lebih kurang. Sayur-sayur tu ikut suka masing-masing la nak letak apa.


CANTONESE YEE MEE
resepi sumbangan mallanhead di FNR

kepingan isi ayam, marinate ngan kicap n tepong jagung
Udang dan sotong
Sayor hijau spt sawi, atau bakchoy
Carrot
Bwg putih
Air
Chicken granules
Oyster sauce, kicap dan minyak bijan
Telor dikacau2.
Garam n lada ikut rasa
Larutan tepong jagung utk memekat kuah

Directions:
1) Goreng bawang putih sampai agak2 brown
2) Masukkan isi ayam dan sotong, carrot. Kacau seketika. Masukkan air dan chicken granules. Masak sampai boiling.
3) Masukkan sayur dan udang tadi. Masak dlm 2 minit. Rasa dan tambah garam n lada mengikut rasa. Masukkan campuran larutan tepong jagung tadi. Ikut sukalah. Kalau nak pekat, banyak sikit, kalau tak nak kurangkan. Masak smp mendidih lagi.
4) Tutup api dapur dan masukkan telor. Kacau sikit sikit je. Lepas tu letak minyak bijan sikit.
5) Letakan atas yee mee n makan ngan cili hijau