Rava Idli
Sebelum ni asyik buat resepi suji yg jenis manis jer so kali ni try yg jenis savoury plak. Kalau tgk gambar kat blog tuan punya resepi tu, warna dia putih tapi maisya punya ni dah jadik kuning le plak...maybe sebab goreng lama sgt bhn-bhn dia. Sebenarnya ada acuan khas dia tapi maisya guna acuan muffin jer. Tak tau le menjadik ke idak sebab maisya punya ni berat dan padat sikit.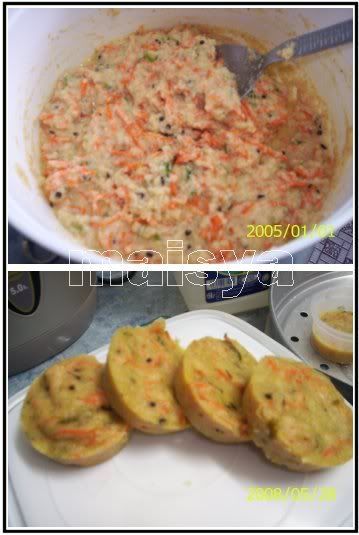 Rava Idli
http://ruchii.wordpress.com/2007/08/29/rave-idly-kadalebele-chutney/


2 cups Curds (tairu/yogurt)
2 cups Rava(Upma rava/suji/semolina)
1 tbsp Oil
1 tsp channa dal - tak letak
curry leaves
1 tsp cumin
1 tsp mustard seed
1/2 cup Grated Carrot
Can also add corriander leaves and green chillies.

* This measurement make about 16 idlies.

Heat oil in a vessel, when hot add mustard, cumin and channa dal and curry leaves, then add rava and fry till light brown or untill raw smell of rava is gone(Can make this part night before and in morning just add curds and make idlies).
When the rava mixture is cool enough add 1 cup of curd and mix and keep aside for 10 mins or so. Rava will absorb all the moisture and becomes like a thick dough
When ready to make idlies add the remaining curds and make like thick batter and pour over greased idly moulds.(If its too thick add little water or more curds)
Steam them for about 20 mins.
Let it cool for a while before taking from the Idli moulds (allowing it to cool makes idlies come off easily without sticking to the moulds).